It Began With One School
Since its incorporation as a non-profit organization in 2003, The Dr. Bettye Bouey Yates Educational Foundation has worked with the Christianenburg Primary School located in the Township of Clermont, Province of KwaZulu-Natal, near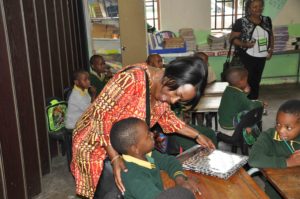 the city of Durban, South Africa.  The Foundation has helped to enrich and transform the educational experience the children receive there through a wide range of projects it has funded. Critical school infrastructure needs have been addressed.  A dilapidated building became a well-stocked library; a trip was financed for the principal and librarian to exchange "best practices" with teachers and principals in the United States; thousands of books and dictionaries have been purchased for the learners; a science lab was created; science and mathematics kits were purchased; a computer center was created and much more.
In August 2009, two Board members conducted an on-site evaluation to determine the effectiveness of the Foundation's efforts to assist the Christianenburg school. They interviewed parents, teachers, and the principals of the Christianenburg school, the principals of three other primary schools in the area, and the principal of a high school where the learners continue their education. They reported that the learners, educators, and staff had made excellent use of the books, materials, and facilities funded by the Foundation. The high school principal confirmed that the Christianenburg learners were somewhat more advanced than those from other primary schools in the area.  Today, the Christianenburg Primary School serves over 1200 students in grades one through seven under the provincial Department of Education. 
Since 2010, the Foundation has extended its efforts to two other public primary schools in the same Township: Clermont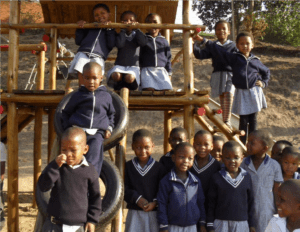 Primary School and the Clernaville Primary School.  In 2010 and 2011, the Foundation distributed approximately 300 dictionaries each year to additional schools for their seventh-grade learners, gave the Clernaville school library a set of encyclopedias, and purchased 180 readers for the Udumo and Clermont schools.  In 2018, students from Clermont placed second and third place in the district-wide Science Olympiad and earned the top three positions in the Math Olympiad. The Christianenburg Primary School ranks second overall among the 6,000 schools in the KwaZulu-Natal District. 
The educational experience for the tens of thousands of students from these schools has been transformed through the generous donations and contributions of the members and friends of The Dr. Betty Bouey Yates Educational Foundation and from the hard work of the educators and administrators of the Christianenburg, Clermont and Clernaville Primary Schools.  The educational needs of children in one of the most economically depressed areas of South Africa are being met and the children in these schools are thriving.
JOIN US IN ENSURING A BRIGHT FUTURE FOR SOUTH AFRICAN CHILDREN